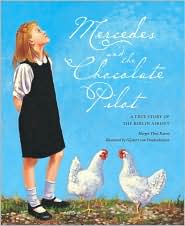 by Margot Theis Raven,
Gijsbert Van Frankenhuyzen (Illustrator)
A true story about a little girl in the late 1940's who waited for candy drops from the Chocolate Pilot.
Annotation
The true story of a young German girl, Mercedes Simon, and of the American pilot, Gail Halvorsen, who shared hope and joy with the children of West Berlin by dropping candy-filled parachutes during the Airlift.
Publishers Weekly
Van Frankenbuyzen's (L Is for Lincoln) opening spread of a bombed-out West Berlin speaks volumes about the necessity of the 1948-1949 Berlin Airlift, the setting for this somewhat overwritten tale. During this time, the British and American forces flew food and basic supplies into the city after the Russian blockade cut off all access to it. After a historical note, Raven (Angels in the Dust) introduces Mercedes, a likable young West Berliner who tends the white chickens in her yard. One morning, her mother reads her a newspaper article about an American pilot, Lt. Gail Halvorsen, who, when delivering supplies to the city, "rained down sweets" on children waiting by the runway ("They carried flour and clothing and coal too. And something else!" reads the narrative). At the airfield, an older, taller boy snags the chocolate bar headed her way, and Mercedes sends Halvorsen a letter ("When you fly over the garden and see the white chickens, please drop some candy there and all will be ok"). He then mails her a package of treats ("The memory of this day would stay with her for the rest of her life"). Unfortunately, the epilogue is more compelling than the narrative: readers learn that Mercedes met Halvorsen in 1972, and the two remain friends. The close-up portraits may be static, but the artist's lifelike depictions of the devastated city are chilling; bullet and shrapnel holes mar even the girl's garden walls. Despite the cumbersome text, a sketch of an uncommonly giving man and a rare friendship emerges. Ages 5-10. (Apr.) Copyright 2002 Cahners Business Information.
More Reviews and Recommendations