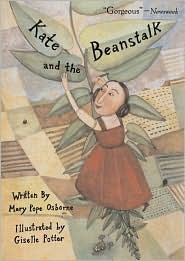 Fee, Fi, Fo, Fum'un,

I smell the blood of an Englishwoman.

Be she alive or be she dead,

I'll grind her bones to make my bread.
Mary Pope Osborne's funny, magical retelling of the favorite tale and Giselle Potter's enchanting illustrations feature a new and inspiring heroine named Kate for today's audience. Readers will cheer on this resourceful, gutsy girl as she outsmarts the famously greedy giant.

Annotation
In this version of the classic tale, a girl climbs to the top of a giant beanstalk, where she uses her quick wits to outsmart a giant and make her and her mother's fortune.
Publishers Weekly
Kate (instead of Jack) trades her family's cow for magic beans and climbs the beanstalk to find a kingdom in the clouds. PW's starred review said it "puts a fresh face on an old favorite." All ages. (Oct.) Copyright 2005 Reed Business Information.
More Reviews and Recommendations
Biography
Mary Pope Osborne has channeled a lifelong love of exploration and travel into one of the most popular children's book series of the past two decades. With her fantastic Magic Tree House series, Mary Pope Osborne keeps the good times rolling for kids all over the world.
More About the Author